FUME CONTROL
SOURCE CAPTURE
For applications where Downdraft Tables do not apply, Fume Arms
coupled with portable collectors or straight exhaust will help with
the worst of situations.
This is called SOURCE CAPTURE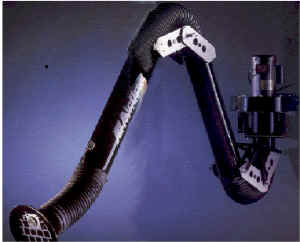 GIVE US A CALL OR EMAIL
FOR A COMPLETE BROCHURE
ON THE E-Z ARM™ HIGH FLOW
EXTRACTOR SYSTEMS BY
AIRFLOW SYSTEMS,INC.
THREE INCH
EXTRACTION SYSTEMS

THE 3' EXTRACTION ARMS HAVE
COMPLETE 360º MOVEMENT ALONG
THEIR ENTIRE LENGTH.

Designed for industrial applications,
the 3" diameter arm is a flexible,
self-supported arm that comes either
in a 3' or 5' model.